KC Cops in the Community
By: Jeanene Kiesling
Four months ago, a close friend of Kurt Gowdy went into sudden cardiac arrest while their families were vacationing at a lake in a remote area.
Gowdy immediately started CPR but by the time emergency crews arrived it was too late. Gowdy's friend passed away.
A couple months later, while shopping with his wife at Nebraska Furniture Mart, Gowdy collapsed. He was in full cardiac arrest, and his heart stopped.
Just a few feet away, off-duty Kansas City, MO police officer Jon Best heard Gowdy fall and jumped into action.
"I moved around to his side and felt for a pulse and he didn't have one," Best said. "I just ripped his shirt up…and started doing chest compressions. I honestly didn't think he was going to make it."
Within moments, Cpl. Louis Cortez, an off-duty Topeka police officer, and NFM security officer Will Williams stepped into help.
Williams grabbed an automated external defibrillator or AED.
At NFM, employees are trained on defibrillator machines and Gowdy was shocked five times.
"I didn't see any signs of life," Best said.
Best and the others didn't stop working on Gowdy until emergency crews arrived. Gowdy had just a 40-percent chance of survival.
Two days later, Best called Williams to find out if the name whose life he fought so hard to save was alive - a man whose name he still did not know.
That's when Best learned Gowdy lived.
"It's hard to describe. Whenever I knew he was going to be okay just happy. Happy all around for everyone that was there," Best said.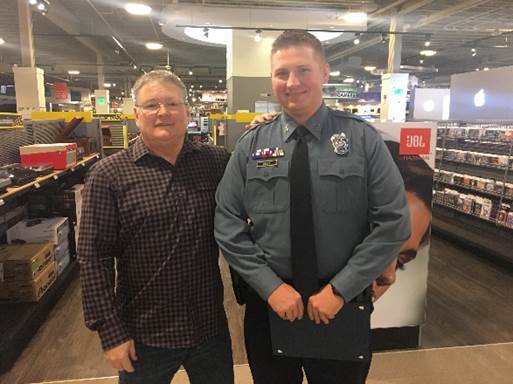 On Monday, Gowdy was reunited with the men who saved his life.
"It goes to show what's built into people and their willingness to respond, these three gentlemen did it. They
jumped right in," Gowdy said. "It was that willingness that want to help someone else, a stranger… that saved my
life."
It was an emotional meeting and one Gowdy used to not only thank the men for their quick actions but also to
raise awareness for the importance of AEDs. This was the third life saved at NFM in four years thanks to the
defibrillator and the employees trained to use them.
NFM honored the officers and security guard and presented them a certificate for their heroic actions.
Gowdy said he believes he "was put in that place for a reason."
Best was certified in CPR during his time in the police academy a decade ago. This was the first time he'd ever had
to use his training and lead to the best possible outcome.
"It was pretty emotional seeing him standing there," Best said of the reunion. "It was a night and day difference what he looked like back on that day to today."
It was a good day and another example of a Kansas City police officer doing all they can to help someone in need.
If you or someone you know has a story about a police officer going above and beyond the call of duty, please email jkiesling@kcfop.org.