2nd Annual Dana and Parks Bowling Bash
The 2nd Annual "Dana and Parks Bowling Bash" is quickly approaching, and we need your help!
Sign up now to participate in this fun event that raises money for police families in need in our region. A portion of this year's proceeds will go to benefit the family of Clinton PD officer Christopher Ryan Morton, who was killed answering a call for service March 6 of this year. Additionally, this even also supports the Kansas City Police Officer's Memorial Foundation, a 501c3 established to provide officer support and community outreach.
There are still spots available at the 2PM-4PM Session! To sign up, email your team information or questions to BowlingBashKC@gmail.com. The cost is $40/person. If you sign up a team of 4 - 6 players, you will get a discount!
There are also sponsorships at many different levels available, see the attached .PDF for more information on those opportunities, or email your questions to info@kcfop.org.
(Click the image below to see a larger version)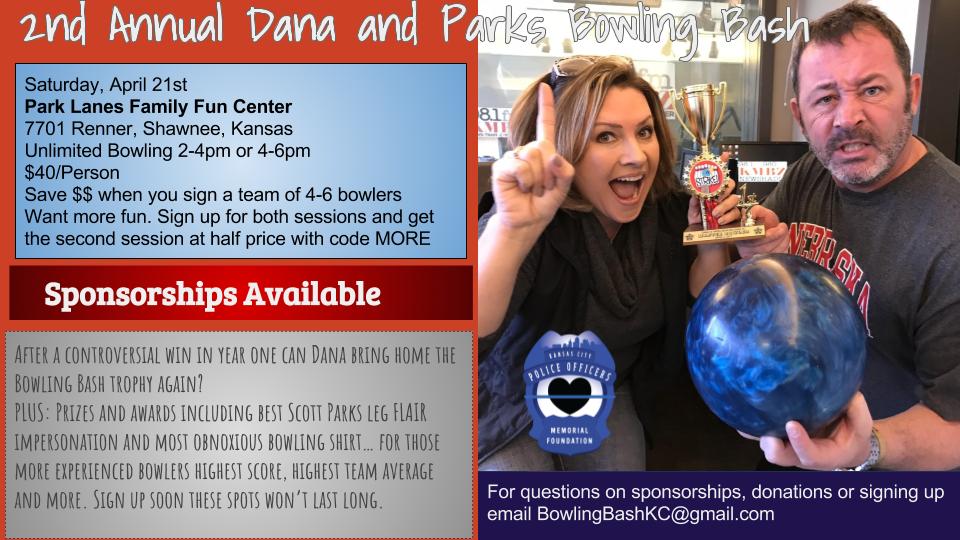 Download:

Bowling Bash 2018 sponsorships.pdf